After a week at the beach, I am more healed, and feeling pretty good.
I made the decision to take my wheel to the beach, thinking that if I didn't feel very good I could at least sit down with my spinning wheel. It turned out to be quite a good idea to bring, as well. My nephew Ben (4) is absolutely entranced by it. One afternoon, my mom and my SIL (Ben's mom) wanted to go to the store just quickly to get some dinner supplies. Ben was NOT happy that he didn't get to go in the car, and started crying, which started his little sister Ally (1.5) crying. I asked Jeff to go get my spinning wheel and roving and immediately, Ben just started watching me "spin my wheel" When big bro stopped crying, so did little sis. So Ben and I spent the afternoon talking aobut how a spinning wheel works and learning all the parts. My favorites are the "fwyer" the "tweadle" and the "muddewofaww
I got a lot of spinning done too
Here is a yarn I spun intentionally for a shawl out of Spin Off magazine. It's a really cool tie-shawl, and I'll post pictures as that progresses.
I also branched out and tried my very first 3- ply.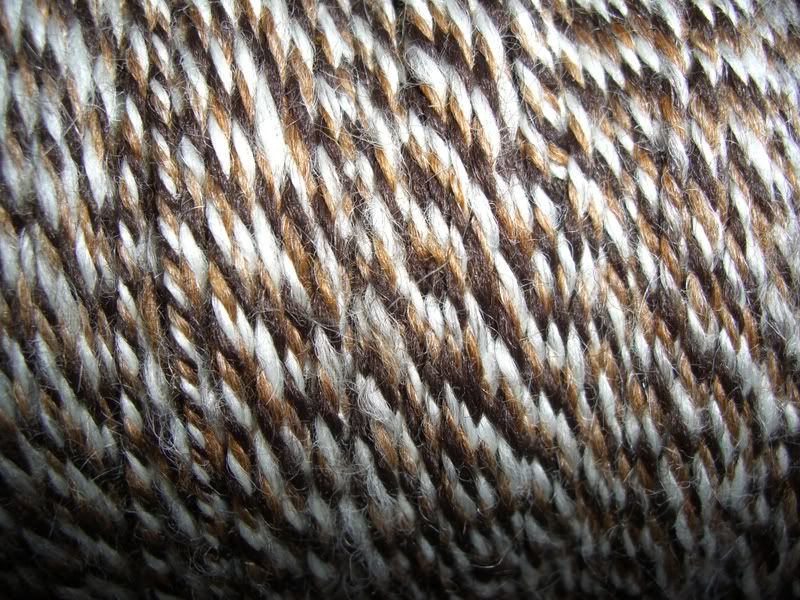 I think I'm in love, but I've decided I probably will NOT be doing 3-ply for sale. It takes too darn long!
And last but not least, I finished Tubey. Well, all but weaving in the ends. But that doesn't count, right? It won't take too long.